5 reasons for organizing a wedding in autumn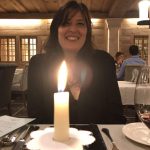 by
8 January 2019
Your partner proposed you to marry him, and now what? The first step is choosing a day for your wedding: most people choose spring and summer, but we'll suggest you something alternative: autumn. Let's see 5 good reasons for choosing this season. Good weather, low prices, bucolic locations, fairytales atmospheres and tasty menus can make an unforgettable day.
1. Pleasant weather
Autumn is the ideal season for the couple and their guests: too much heat annoys people during summer. This will let people wear elaborated outfits like hats, shrugs and fancy gloves. The bride's dress has to follow the characteristics of the season, according to the temperature that can vary during the day and evening.
The latest trends talk about brocaded dresses with long sleeves, sometimes with lace, a cloak or a bolero. The groom can choose a black tuxedo or a blue or grey three-pieces. When it comes to makeup, brides shouldn't be worried because there won't be a high temperature. We recommend nude nuances and warm colors.

2. Low cost
A wedding is usually regarded as really expensive. Party favors, floral decorations and a photo shoot reduce the budget available, but luckily you can save on dresses and ceremony. Some shops offer discounted dresses (usually from past collections).
Most weddings are celebrated during spring and summer, so the demand is highly reduced in autumn and prices are lower. You can also save on your honeymoon: travel agencies offer interesting trips at low prices, also because airlines and hotels have cheap offers.
3. Choice of the menu
In contrast to summer, autumn makes people hungry. This period of the year offers a wider choice of food, for example mushrooms, chestnuts, pumpkin, artichokes, truffles and a lot more. Pumpkin becomes the main ingredient of tortellini and gnocchi (dumplings), served with a cheese sauce. You can use mushrooms, artichokes and truffles for appetizers and first-courses (salad with porcini mushrooms and olive oil, rice with artichokes or truffle).
Chestnuts can go with meat (red, turkey, pork) or used to make an alternative wedding cake. Berries, pomegranates, grapes and pinecones can be used as a decoration for tables but also for the bride's bouquet.
4. Suggestive locations and a magical atmosphere
Autumn is the perfect season for organizing a wedding party in evocative locations: the countryside shows warm colors. The offer includes country houses, castles in the wood, abbeys and so on. The weather sometimes catches off-guard, so you should have the celebration in the morning: you can benefit from more sun hours and a beautiful time for their photos. For the party, choose colored candles, fireplaces, candlesticks, ancient pictures, long wooden tables and comfortable sofas.