5 ideas for a rebel bride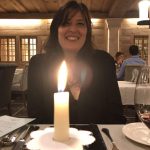 by
5 March 2019
A classical wedding is not compulsory; couples often tend to be creative in order to do something out of the box. Colors, materials and transgressive lines are changing the stereotype of the white bride, with a long dress and a veil covering her face. In this article, we'll show you 5 ideas for a rebel bride
#1 Trousers instead of a long dress
Modern brides look for a fresh personal style that represents them. The long dress, the veil and the classical bouquet give space to new ideas. An innovative idea is wearing trousers as an alternative to a long skirt. Trousers are not only elegant but they can also highlight a specific pair of shoes.
The color varies, but it's better peach or rose. If you don't like a transgressive jumpsuit, you could think about a short dress. A mini-skirt joins classical and modern; a knee-length skirt reminds of the 50s: it perfectly matches shoes and colored foulards, or a bustier, for a wedding in summer. A skirt-trousers stands in-between, but if you want to be bold, you could wear a petticoat dress.
#2 The rebel bride's sneakers
The classical bride prefers a long dress rather than cute shoes; the rebel bride emphasizes heel and style of her shoes. You could wear blue or red décolletés, or sandals if your wedding is in summer. However, sneakers are becoming popular among modern brides.
This is a little revolution that claims the comfort of sneakers. Women that don't like high heels can wear comfortable shoes that match a long dress. It obviously depends on the style of the wedding: themed celebrations let you be creative. During a country wedding, for example, the bride can wear a pair of pointy boots
#3 A bouquet with paper flowers or buttons
A coherent idea with the style of a rebel bride focuses on details too. Every detail should be analyzed in order to match the woman's personality. Dress, shoes and accessories change, so does the bouquet: no more fresh and white flowers. It can be made of recycled paper flowers, or wool, felt and cotton.
You can also match the bouquet with the dress and use the same material. The bouquet can be decorated with strass, glitters or pearls. If you want to surprise your guests, you could throw in the air a bouquet made of buttons or feathers.
#4 What does a rebel bride wear on her head? A crown of flowers!
For years and years the bride's face has been covered with a veil because it represented purity. The rebel bride wears her hair down and refuses a chignon; straight, wavy, curly or even messy hair can easily go with a crown of flowers. A bride that wears trousers could also wear a wide hat. But if you really want to surprise your family, you should wear a top hat!
#5 DIY earrings instead of diamonds
Young brides prefer DIY earrings to expensive diamonds and pearls. You can create your own crochet jewels with a personal shape and innovative colors: you can add strass and beads. Another popular material is also play-doh. There are a lot of possibilities: be creative!